September 5th, 2014 Ayiu
Nintendo has revealed details on three different physical retail editions for Bayonetta 2 as well as a solid launch date for Europe and North America. Bayonetta 2 will be out October 24 and the most tempting version will be the First Print Edition which includes the following:
The Book of Angels Leather, 3D Embossed
The Art of Bayonetta 2
Bayonetta Game Disc – Each game comes on its own disc
This pack will be limited to just 15,300 copies.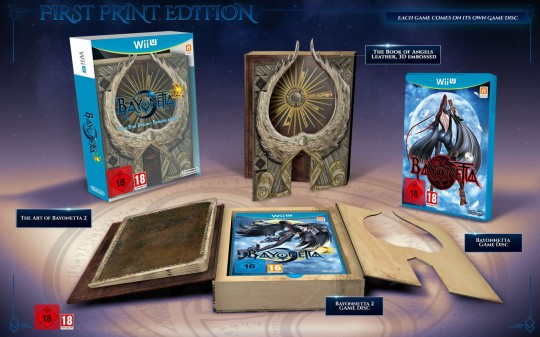 Next up is the Special Edition which includes both games but doesn't include any of the extra goodies or special packaging. And finally, there's the Solus Edition which is just Bayonetta 2 in a standard case.
In the UK the First Print Edition is exclusive to GAME UK and costs £59.99 GBP.
Thanks to ce.o member Letrico for the heads up!