Call of Duty: Black Ops III Hardened Edition
Platform:

Xbox One
Edition:

Hardened Edition
Format:

Europe
---
Published by
Activision
Released in
United Kingdom
on
Nov 06, 2015
at a price of
£69.99
Released in
Europe
on
Nov 06, 2015
at a price of
€69.99
The Call of Duty: Black Ops III Hardened Edition includes the following:
LIMITED EDITION SPECIALIST CONCEPT ART CARDS – Call of Duty: Black Ops III multiplayer introduces the new Specialist character system, allowing players to choose from 9 elite black operations soldiers – each with their own look, personality, and voice. Each Specialist is featured on their own art card that includes exclusive concept art, biography, and a description of their unique weapon and ability.
THE GIANT BONUS MAP – Zombies returns in all of its undead glory with "The Giant," a Nazi research facility featuring the weapon-upgrading Pack-a-Punch Machine. Re-live the chaos of Treyarch's classic "Der Riese" Zombies map, picking up the Zombies story with Dempsey, Nikolai, Richtofen, and Takeo where Origins left off.
COLLECTIBLE STEELBOOK – Limited edition steel game case featuring an exclusive design.
IN-GAME BONUS CONTENT: WEAPONIZED 115 – The Weaponized 115 Personalization Pack brings the popular Zombies theme to your favorite Multiplayer weapon. Customize your weapons with the fan favorite Origins-inspired camo, reticle, and animated calling card.
IN-GAME BONUS CONTENT: CYBORG – The fan favorite Cyborg Personalization Pack returns in Call of Duty: Black Ops III, fully-loaded with an electrotech-themed weapon skin, uniquely-shaped reticle, and a calling card.
OFFICIAL CALL OF DUTY: BLACK OPS III SOUNDTRACK – Upgrade your playlist with a digital copy of the in-game score.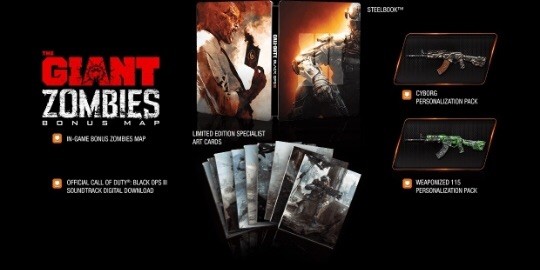 Other games with Collector's Edition releases from the
Call of Duty franchise.