Far Cry 3 Insane Edition
Platform:

PC
Edition:

Insane Edition
Format:

DVD-ROM
---
Published by
Ubisoft
Released in
Australia
on
Nov 29, 2012
at a price of
$98.99
Released in
United Kingdom
on
Nov 30, 2012
at a price of
£32.99
The Insane Edition of Far Cry 3 comes in a fold out survival kit case and includes the following content:
Insane Vaas Wahine 12cm bobble head
Essential Island Survival Guide
Digital Content
Monkey Business: Discover Hurk, a new character and quest giver, and his 4 unique missions.
The Lost Expeditions: 2 Missions and a World War II Flare Gun.
The Hunter Pack: The M700 hunting rifle and its three skins.
The Warrior Pack: A handcrafted dagger and two exclusive tribal tattoos
The Predator Pack: 4 exclusive rare predators and a multiplayer bow.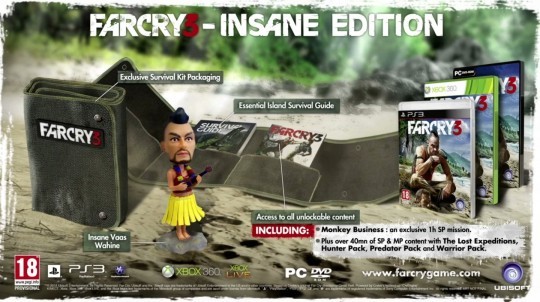 In UK, you can preorder the Insane Edition at Gamestop, Game, Play, and Amazon.
In Australia, you can preorder the Insane Edition at EB Games.
Other games with Collector's Edition releases from the
Far Cry franchise.