Tales of Symphonia: Unisonant Pack LaLaBit Market Limited Edition
Platform:

Playstation 3
Edition:

LaLaBit Market Limited Edition
Format:

2
---
Published by
Bandai Namco Games
Released in
Japan
on
Oct 10, 2013
at a price of
¥9,980
The LaLaBit Market Limited Edition of Tales of Symphonia: Unisonant Pack comes packaged in a hardbound cardboard sleeve with Artwork drawn by Animation Studio Ufotable.  It includes the following content:
Set of 5 "Chibi Kyun Chara" Figures: Modeled after Lloyd Irving, Colette Brunel, Marta Lualdi, Emil Castagnier in Ratatosk Mode, and Tenebrae.
Original Paperback Novel: "Tales of Symphonia: Kibou wo tsugu Mono"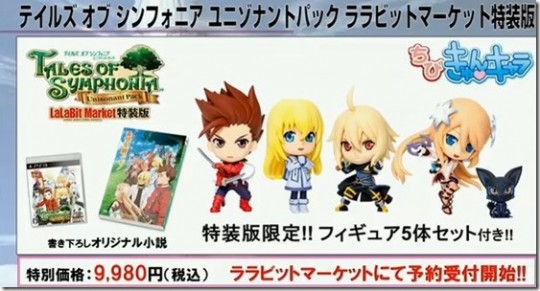 Pre-Order:
This Edition was strictly ONLY open for Pre-Order up until July 15th 2013.
Other games with Collector's Edition releases from the
Tales franchise.