Tales of Xillia 2 LalabitMarket Luxury Edition Kyun Chara Pack
Platform:

Playstation 3
Edition:

LalabitMarket Luxury Edition Kyun Chara Pack
Format:

2
---
Published by
Namco Bandai Games
Released in
Japan
on
Nov 05, 2012
at a price of
¥11,980
The LalabitMarket Luxury Edition Kyun Chara Pack of Tales Of Xillia 2  includes the following content:
きゅんキャラ ルドガー×1(ルドガー交換用ボディ2体) ・きゅんキャラ エル×1(ルル付属) – (Replacement body 2 body Rudoga) × 1 Kyararudoga Kyun  (Included Lulu) El × 1 Kyun Chara
Special box with calendar
Kyun Chara Rudger (2 alternative bodies)
Kyun Chara Eru (including Lulu)
Material Collection Artbook: Tales of Xillia 2 -Before Episode-
First-Print Edition Download Product Codes (Tales of Xillia 2 PS3 Theme & 3 Character Costumes)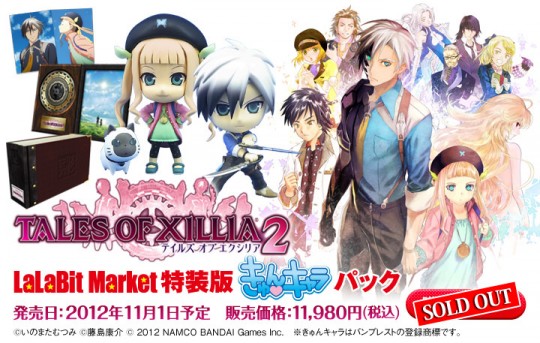 Additional Information :
■ "Cels &" 2-Before Episode-TALES OF XILLIA "original short story"
It is a short story depicting the story between the "Tales of export Syria 2" and "Tales of export Syria."
Together with illustrations of newly written original story by screenwriter of "Ekushiria 2" of draw down ufotable, liven up the story that leads to the "Ekushiria 2".
In addition, the specification has become a luxury that was also recorded Cels and major characters that appeared in the cover of drawn ufotable "Ekushiria 2".
The following may get in the product code, which is enclosed in the package of the first production run product code <br> inclusion benefits for the first time.
■ The product code can be downloaded at <br> character costumes third series,
To Emil's style costumes, "- – Tales of Symphonia: Knight of Ratatosk" the Rudoga
Yuri style costumes of "Tales of Vesperia" to Jude,
You can change the style costumes dress Asuberu of "Tales of Graces" the Mira.
■ PS3 custom theme
You can download all 17 kinds of special custom themes that can be one color "Ekushiria 2" PS3.
Availability:
Exclusive http://lalabitmarket.channel.or.jp/p/122202/
Other games with Collector's Edition releases from the
Tales franchise.