Resident Evil Revelations (Circle Pad Pro Bundle)
Platform:

3DS
Edition:

(Circle Pad Pro Bundle)
Format:

Europe
---
Published by
Capcom
Released in
United Kingdom
on
Jan 27, 2012
at a price of
£54.99
Released in
Europe
on
Jan 27, 2012
at a price of
€64.99
The Circle Pad Pro Bundle of Resident Evil Revelations comes packaged in a cardboard box and contains the following content:
Circle Pad Pro 3DS Console Accessory – Circle Pad Pro is an add-on accessory designed to give players a comfortable grip when playing the games that support it.  It features a second analog slider and two more shoulder buttons than are present on the console. The Circle Pad Pro replaces the L and R buttons on the console with a ZL and ZR button.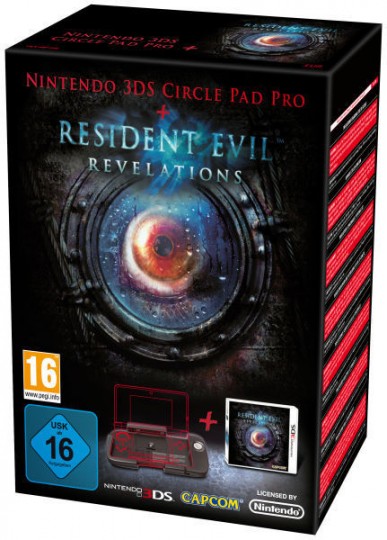 Availability:
In the United Kingdom this Edition is Exclusively sold through Zavvi Stores.
Other games with Collector's Edition releases from the
Resident Evil franchise.