Assassin's Creed: Unity Special Edition
Platform:

Playstation 4
Edition:

Special Edition
Format:

Europe
---
Published by
Ubisoft
Released in
United Kingdom
on
Nov 13, 2014
at a price of
£54.99
Released in
Europe
on
Nov 13, 2014
at a price of
€69.95
The Special Edition of Assassin's Creed Unity: Special Edition includes the following content:
1 additional single player mission for an extra 30 minutes of gameplay:
The Chemical Revolution: Antoine Laurent de Lavoisier is considered to be the "Father of Modern Chemistry". As a result of his efforts, he was able to create the formula for a poison bomb. Unfortunately he was taken before he could give it to you. Help him escape his kidnappers and recover the formula of the precious bomb.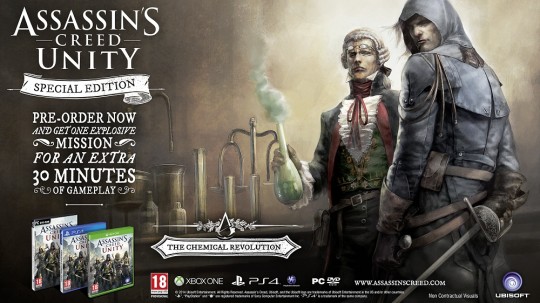 Other games with Collector's Edition releases from the
Assassins Creed franchise.