Assassin's Creed IV: Black Flag Black Chest Edition
Platform:

Xbox 360
Edition:

Black Chest Edition
Format:

PAL
---
Published by
Ubisoft
Released in
United Kingdom
on
Oct 29, 2013
at a price of
£119.99
Released in
Europe
on
Oct 29, 2013
at a price of
€149.99
The Black Chest Edition of Assassin's Creed IV: Black Flag comes in a Collector's box and includes the following content:
55cm-high diorama of Captain Edward Kenway leading the charge on his ship's bow, the Jackdaw

Steelbook
Artbook including artworks that inspired the game
The Official Game Soundtrack
World map
2 lithographs in a protective envelope
The Jackdaw's Black Flag, embroidered with the Assassin's Crest
2 canvas prints
3 additional solo missions
Black Island: Captain Morgan's favorite ship has sunken off the coast with a full load of legendary sailing equipment. Explore the Black Island and retrieve these items Pirates have desperately been looking for.
Hidden Mystery: Follow Stede Bonnet's path and find the secrets of his adventures on the beautiful island of St Lucia.
Sacrificed Secrets: Recover Captain Drake's lost treasures, including golden flintlocks and cutlass when exploring the exotic island of Sacrifices.
Additional single and multiplayer items
Captain Kenway's Legacy
Pride of the West Indies
Trove of Mystery
The Castaway's Prize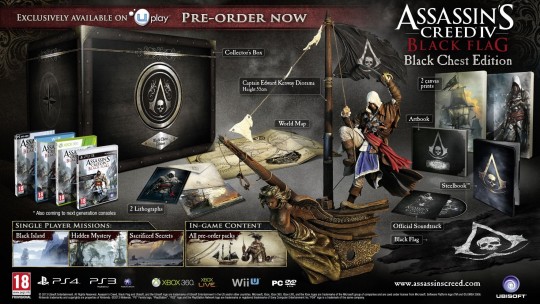 Availability:
This edition is available exclusively through UPlay
Other games with Collector's Edition releases from the
Assassins Creed franchise.