Assassin's Creed III Ultimate Special Edition
Platform:

Playstation 3
Edition:

Ultimate Special Edition
Format:

4
---
Published by
Ubisoft
Released in
Australia
on
Nov 30, 2011
The Ultimate Special Edition of Assassins Creed 3 comes in a custom made trunk and includes the following content:
Assassins Creed III Freedom Edition
Assassins Creed III Liberation
Backpack satchel
Tomahawk USB Key
Steel postcard
Notebook
Belt Buckle
Wristband
Iron on patch
Steelbook
Lead Figurines
Tomahawk keychain
Liberation keychain
PS3 ULC – Captain of the Aquila, Colonial Assassin, Red Coat Multiplayer Pack
PSVita ULC – Mysteries of the Bayou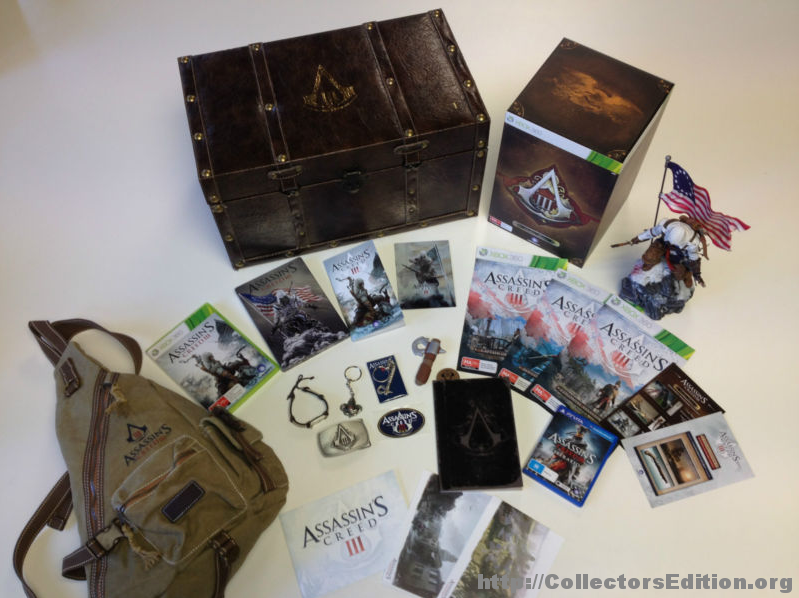 History:
Ubisoft creates Assassins' Creed III Special Edition to raise money for Sydney Children's Hospital Foundation.
Production:
The Ultimate Special Edition is limited to 8 units.
Availability:
It is only available for bidding by ebay.
Other games with Collector's Edition releases from the
Assassins Creed franchise.